Le positionnement des bibliothèques universitaires et de recherche françaises dans les politiques publiques des données de la recherche
At the time of the fourth paradigm of science, open science, and research data management in particular, are now the subject of policies that are being structured at different levels (international, European, national and within academic and research institutions). After an initial phase of questioning, it now appears that libraries are crucial players and partners in terms of both leadership and technical issues in supporting research. They are now present and active in the vast majority of reflection spaces around these issues. Based on the sociology of public action, this thesis intends to go beyond the question of "why" and the questioning of the legitimacy of libraries to participate in the management of research data by asking questions about "how". This work identifies three roles played by libraries in their participation in research data policy development (roles of experts, design and operational actors). It shows that it is first by enlarging the French professional networks and then by mobilizing and structuring their discourse through their professional organizations, by their capacity to work in network, their technical expertise, their experience drawn from the deployment of open access and their advocacy capacity, that libraries have been able to position themselves as key players in the open science field.
A l'heure du quatrième paradigme de la science, la science ouverte, et la gestion des données de la recherche en particulier, font désormais l'objet de politiques qui se structurent à différentes échelles (internationale, européenne, nationale et au sein des établissements universitaires et de recherche). Après une phase initiale d'interrogations, il apparaît désormais que les bibliothèques sont des actrices et des partenaires cruciales tant en ce qui concerne le leadership que les questions techniques dans l'appui à la recherche. Elles sont aujourd'hui présentes et actives dans la grande majorité des espaces de réflexion autour de ces enjeux. Adossé à la sociologie de l'action publique, ce mémoire entend dépasser la question du « pourquoi » et du questionnement autour de la légitimité des bibliothèques à participer à la gestion des données de la recherche en s'interrogeant sur le « comment ». Ce travail identifie trois rôles exercés par les bibliothèques dans le cadre leur participation à l'élaboration des politiques des données de la recherche (rôles d'expertes, de conception et d'actrices opérationnelles). Il montre que c'est d'abord en élargissant les réseaux professionnels français puis en mobilisant et en structurant leur discours à travers leurs organisations professionnelles, par leur capacité à travailler en réseau, leur expertise technique, leur expérience tirée du déploiement de l'open access et leur capacité d'advocacy, que les bibliothèques ont su se placer en actrices incontournables du chantier de la science ouverte.
Fichier principal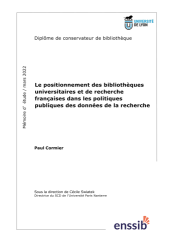 Cormier - Le positionnement des bibliothèques universitaires et de recherche françaises dans les politiques des données de la recherche 28-02-2022.pdf (3.36 Mo)
Télécharger le fichier
Origin : Files produced by the author(s)
Licence : CC BY NC ND - Attribution - NonCommercial - NoDerivatives