Le développement des collaborations entre acteurs amateurs et professionnels en astronomie en France : interactions, récolte et utilisation des données au XXIᵉ siècle
Pro-am collaborations in astronomy considerably increase since the beginning of the XXIst century, in continuous development and innovation. They can aim towards educating and generating public understanding, teaching amateurs or enhancing research and knowledge production. However, interactions between professionals and amateurs remain limited, even though it is widely recognized and asked by most astronomers to improve exchanges between the two communities. Very recently, new projects emerged involving more non-scientists and fully acknowledging their contribution in scientific results. This master's thesis proposes to cover a panorama of interactions between both sides depending on the types of collaboration, and to understand which road it is heading towards.
Les collaborations en astronomie entre professionnels et amateurs sont en forte augmentation depuis le début du XXIᵉ siècle, se développant et innovant continuellement. Elles peuvent avoir pour but d'instruire le grand public, de former les amateurs ou bien d'améliorer la production des savoirs. Cependant, les interactions entre professionnels et amateurs restent parfois limitées, bien qu'il soit reconnu et demandé par la majorité des astronomes d'améliorer les échanges entre les deux communautés. Très récemment, de nouveaux projets ont vu le jour impliquant davantage les non-scientifiques et reconnaissant pleinement leur apport dans les résultats de recherche scientifique. Ce mémoire propose de faire un panorama des interactions entre les deux partis en fonction des types de collaborations et de comprendre vers quelle voie celles-ci se dirigent.
Fichier principal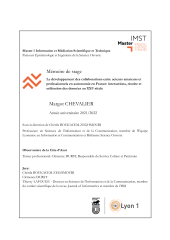 Margot_Chevalier_M1-IMST-EISO_mémoire.pdf (7.01 Mo)
Télécharger le fichier
Origin : Files produced by the author(s)