Intégrer les connaissances empiriques des pêcheurs.ses en écologie marine et en halieutique dans l'élaboration scientifique : ce que la pêche artisanale aux petits métiers varoise renseigne des mutations de la communication scientifique Ouverte
This study is intended to investigate marine sciences specificities and mutations using two main approaches. The analysis firstly focused on a scientists group working in the field of marine ecology and fisheries. Secondly, an analysis about artisanal fishermen.women has been carried out in the Var region (France) of the Mediterranean Sea. This work has shown how empirical knowledges stand out and come to supplement scientific and technical database. Some communications barriers between fishermen.women and scientists have also been highlighted, which could help develop fluid and equitable communication channels. The analysis of a scientific mediation device shows the necessity of the implementation of a different info-communication system. Indeed, this could lead to improve communication fishermen.women communities and science.
Cette étude propose une investigation du champ des sciences de la mer, de ses spécificités et de ses mutations. Elle l'aborde par une double entrée : en analysant d'une part un ensemble de scientifiques rattachés.es à l'écologie marine et à l'halieutique et d'autre part en enquêtant auprès des pêcheurs.ses artisans.nes aux petits métiers de Méditerranée, dans le Var (France). Ce travail a permis de montrer comment les connaissances empiriques de la pêche se manifestent, se formulent et sont complémentaires à l'information scientifique et technique moissonnée par la science. Il a aussi permis d'observer les verrous info-communicationnels, inhibant la mise en place de canaux de communication fluides et équitables entre pêcheurs.ses et scientifiques. Après l'analyse d'un dispositif de médiation scientifique, il expose la nécessité de la mise en place d'un système info- communicationnel différent de ceux majoritairement observés dans la pêche et dans la science jusqu'ici.
Fichier principal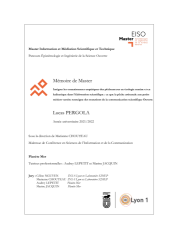 Lucas_Pergola_Mémoire_M2EISO..pdf (2.97 Mo)
Télécharger le fichier
Origin : Files produced by the author(s)