Entre libre accès et open data : quelle ouverture des données pour l'information sur les collections muséales ?
Current studies dealing with scientific information about museum collections show that there are diversified types and material natures. Its complicated legal nature bindsits communication and diffusion. Every element impact librarian's profession. Information governance is impacted by knowledge commons goods governance, with provides tow ways of open information : free access and open data. A professionnal survey was done to ask seven museum professionnals about their opinion about the opening of information. They rather a positive opinion, but are aware about difficulties ans limits of free access and open data ways. Executing this opening impacts their professional identity.
La littérature actuelle concernant l'information scientifique sur les collections muséales révèle une hétérogénéité des types d'informations et de supports, ainsi qu'une nature juridique complexe et contraignante qui régit sa communication et sa diffusion. Ces éléments modèlent les missions des professionnels de l'information-documentation qui la gèrent. La gestion de cette information s'intègre aujourd'hui dans le mouvement des Communs des savoirs et des voies qui en sont issues, le libre accès et l'open data. Dans ce contexte, les musées français semblent peu développer l'ouverture des données. Une enquête réalisée auprès de sept professionnels exerçant dans les musées toulousains montre leur positionnement par rapport à cet enjeu. Plutôt favorables à l'ouverture des données, ces professionnels pointent les difficultés et limites de telles voies tout en exprimant les conséquences de leur mise en œuvre sur leur identité professionnelle.
Fichier principal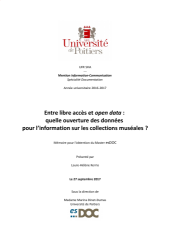 Laure-Hélène Kerrio - Mémoire Master 2 esDoc.pdf (2.15 Mo)
Télécharger le fichier
Origin : Files produced by the author(s)