Posture informationnelle des mouvements sociaux transnationaux.
The crisis of trust, that the occidental democracies currently experience, compels to think anew about the position that the citizens occupy in these ones. Indeed, the citizens have to be placed again in the central position so that they participate more actively in the deciding process. Thanks to that, the democracy will become anew the true expression of the general willingness. If this doesn't happen, the citizens will continue to withdraw from the traditionnal political organisations and will take part in peripheral ones, such as the transnational social movements. And these movements seem to develop a way of operating and a political ideal close to the participatory democracy and to Internet. Therefore, a coincidence between a political paradigm, an organization and a technological object emerges. Consequently, this connection has to be verified. Moreover, thanks to the study of their information posture, we have to determine if the reference to the participatory democracy is a constitutive characteristic of the transnational social movements.
La crise de confiance actuellement traversée par les démocraties occidentales oblige à repenser la place du citoyen au sein de celles-ci. Il s'agit en effet de le replacer au cœur du processus décisionnel de sorte que la démocratie redevienne véritablement l'expression de la volonté générale. Tant que ce recentrage n'aura pas lieu, l'engagement citoyen fuira les organisations politiques traditionnelles au profit de structures périphériques, à l'instar des mouvements sociaux transnationaux. Or, ces derniers paraissent développer un mode de fonctionnement et un idéal politique à la fois proche du modèle de la démocratie participative et d'Internet. Il y aurait donc coïncidence entre un paradigme politique, une organisation et un outil technique. Il convient dès lors de s'interroger sur la validité de ce rapprochement et de vérifier, grâce à l'étude de leur posture informationnelle, si les mouvements sociaux transnationaux se caractérisent effectivement par une référence idéologique à la démocratie participative.
Fichier principal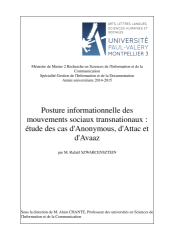 Szwarcensztein Rafaël - Mémoire Master 2 - Version finale.pdf (601.2 Ko)
Télécharger le fichier