Les technologies du web sémantique et du record linkage au service de data.bnf.fr et du Linked Open Data culturel : étude sur les nouveaux paradigmes informationnels
Semantic web and record linkage technologies cause very deep changes in professional networks and practices in the cultural heritage domain. New methods for creating and disseminating metadata surface on a new ecosystem, the cultural Linked Open Data, where partners and users evolve. The traditional boundaries tend to fade between the traditional stakeholders from the cultural area (archives, libraries and museums) , but also between those stakeholders and new actors from the web like Wikipedia. This new linked open metadata space opens up opportunities for rationalizing costs and for efficiently distributing the resource description task. A new user profile emerges with data re-users, who build new services by aggregating previously distinct datasets. Traditional users also benefit from such interoperability across databases as it enables enhanced browsing experience and information retrieval. They can also contribute to enrich resources thanks to social semantic web promises. This mutating environment requires a redefined governance to build trust between all its stakeholders and ensure its sustainability. This opens a strategic opportunity for cultural institutions to consolidate their role in the web of data. To succeed in this, it is crucial that they incorporate new worflows to their traditional activities, and find, among other things, an efficient balance between human procedures and massive algorithmic processes.
Les technologies du web sémantique et du record linkage changent profondément les pratiques et réseaux habituels des professionnels du patrimoine culturel. De nouvelles modalités de production et de diffusion des métadonnées émergent dans un nouvel écosystème, le Linked Open data culturel, où les partenaires comme les usages évoluent. On observe une porosité des frontières traditionnelles entre les acteurs du monde de la culture (bibliothèques, musées, archives), mais aussi entre ces derniers et les nouveaux acteurs du web (e.g. Wikipédia). Ce nouveau paysage de métadonnées ouvertes et liées ouvre des perspectives de rationalisation des coûts et de description efficiente et distribuée des ressources. Un nouveau profil d'usager apparaît, le réutilisateur de données, qui développe de nouveaux services en agrégeant des jeux de données auparavant distincts. L'usager plus traditionnel bénéficiera également de l'interopérabilité entre les bases de données, ce qui permettra d'améliorer son expérience de navigation et de recherche d'information. Il participera lui-même à l'enrichissement de la production grâce aux promesses du web socialsémantique. Cet environnement en mutation nécessite une gouvernance redéfinie afin d'établir la confiance entre ses différents acteurs et assurer son bon fonctionnement à long terme. Cela ouvre aux institutions culturelles l'opportunité stratégique de consolider leur place sur le web de données ; une des conditions d'un tel succès est d'incorporer de nouvelles manières de travailler à leurs activités traditionnelles, en trouvant notamment une complémentarité efficiente entre l'humain et les technologies algorithmiques de traitement de jeux de données en masse.
Fichier principal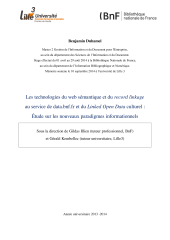 memoire_benjamin_duhamel_master2_gide_lille3_stage_bnf.pdf (2.76 Mo)
Télécharger le fichier