Conception et réalisation d'un Système d'Information sur la Formation Documentaire - SINFODOC
In the higher education, the information literacy knows an unquestionable popularity. However, few quantitative and qualitative elements make it possible to draw up an assessment of it. In view of this report, FORMIST and the ADBU wished the creation of a repertory which would make it possible to count the data of academic libraries on the formation, to update them and to draw some elements for statistical analysis. The purpose of this report is to expose the approach taken by the author to conceive and carry out this program.
Dans l'enseignement supérieur, la formation à la maîtrise de l'information connaît un engouement certain. Toutefois, peu d'éléments quantitatifs et qualitatifs permettent d'en dresser un bilan. Face à ce constat, FORMIST et l'ADBU ont souhaité la création d'un répertoire qui permettrait de recenser les données des Services Commun de Documentation sur la formation, de les mettre à jour et d'en tirer des éléments pour analyse statistique. Ce mémoire a pour but de communiquer la démarche entreprise par l'auteur pour concevoir et réaliser cette application.
Fichier principal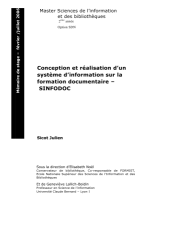 mem_00000391.pdf (2.51 Mo)
Télécharger le fichier
mem_00000394.pdf (4.06 Mo)
Télécharger le fichier