Ouverture des données de la recherche dans la communauté en Intelligence Artificielle : exemple du Plan de gestion des données ANITI
Since 2019 the National Research Agency has implemented a mandatory data management plan for any funded research project. ANITI is an institute with ANR PIA3 2019-2023 funding, the development of a DMP is an integral part of the research process. It is within this framework that URFIST Occitanie has been mandated to organize and write the DMP. This thesis focuses on the AI research community, their practices in terms of data management and dissemination. It follows and describes the methodology used to elaborate this DMP and determines in what way this document allows to valorize the researchers practices and what are its limits.
Depuis 2019 l'Agence nationale de recherche a mis en place un plan de gestion des données obligatoire pour tout projet de recherche financé. ANITI est un institut avec financement ANR PIA3 2019-2023, l'élaboration d'un PGD fait partie intégrante du processus de recherche. C'est dans ce cadre-là que l'URFIST Occitanie a été mandatée pour l'organisation et la rédaction du PGD. Ce mémoire se focalise sur la communauté des chercheurs en IA, leurs pratiques en termes de gestion et diffusion des données. Il suit et décrit la méthodologie employée pour élaborer ce PGD et détermine en quoi ce document permet de valoriser les pratiques des chercheurs et quelles en sont les limites.
Fichier principal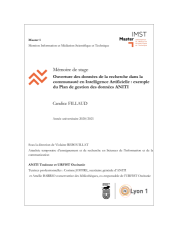 MemoireM1-IMST_FILLAUDC_MEMSIC.pdf (11.4 Mo)
Télécharger le fichier
Origin : Files produced by the author(s)