Formation et évaluation en SCD
The public sector currently makes the experiment of a human resources management evolution, linked to the implementation of new procedures for its personnel assessment. Influenced by corporate practices, Academic Libraries must modernise their job engineering. A snapshop of professional practices exposes the multiple ways of implementing the latest legal provisions, and opens up new horizon so as to draw link between training and assessment. This study presents a situational typology, summarised under concrete cases, in both a pedagogical and practical purpose.
Dans un contexte de transformation de la gestion des ressources humaines dans le secteur public, lié à la mise en place de nouvelles procédures d'évaluation des personnels, et sous l'influence de pratiques privées, les Services Communs de la Documentation sont confrontés à un enjeu de modernisation de l'organisation du travail. La photographie des pratiques professionnelles révèle la diversité des applications des nouvelles dispositions législatives, et ouvre une perspective pour l'articulation entre formation et évaluation. Cette étude élabore une typologie de situations, analysée sous forme de cas, dans un double objectif pédagogique et pratique.
Fichier principal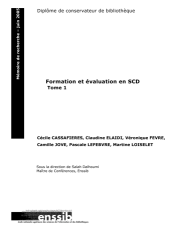 1008-formation-et-evaluation-en-scd.pdf (915.49 Ko)
Télécharger le fichier
Origin : Files produced by the author(s)