Les données de la recherche et leurs entrepôts, de la documentation à la réutilisation : étude de cas pour l'archive HAL
Currently, the French multidisciplinary open archive HAL hosts research data and supplementary materials as annexes. In an attempt to define guidelines for this infrastructure, this thesis presents a state of the art of the stakeholders and issues linked to research data. Then it attempts to describe the various services implemented by the research data repositories as well as the challenges they meet. Finally, it presents an exploratory study of the additional data hosted by HAL, which seeks to identify the scientific communities who are using this service.
L'archive ouverte nationale et pluridisciplinaire HAL héberge aujourd'hui des données de la recherche ainsi que des données supplémentaires sous la forme d'annexes. Afin de tenter de définir des orientations pour cette infrastructure, ce mémoire présente un état de l'art des différents acteurs et enjeux qui gravitent autour de la thématique des données de la recherche. Ensuite, il s'attache à décrire les différents services mis en oeuvre par les entrepôts de données de la recherche ainsi que les défis auxquels ils doivent répondre. Enfin, est proposée une étude exploratoire des données supplémentaires hébergées par HAL, qui cherche à identifier quelles communautés scientifiques utilisent ce service et sous quelles formes.
Fichier principal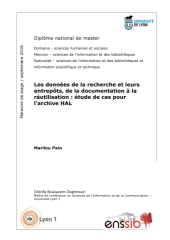 20160909_Memoire_VF_MP.pdf (1.69 Mo)
Télécharger le fichier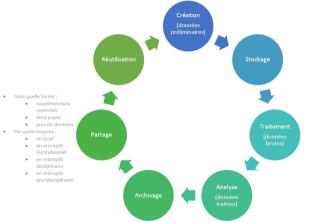 CycleDeVie_Donnees.PNG (47.48 Ko)
Télécharger le fichier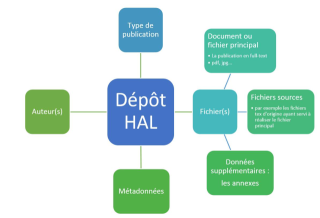 Schema_depot_2.PNG (47.57 Ko)
Télécharger le fichier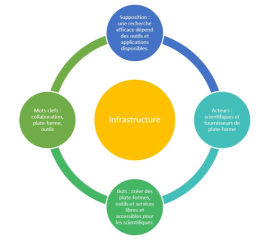 Schema_openscience_infrastructures.PNG (46.37 Ko)
Télécharger le fichier