Les Archives Ouvertes en France et le rôle des professionnels de l'information de l'Enseignement supérieur et de la Recherche
In France Open Repositories are characterized by a duality: a central open repository named HAL and the establishment of institutional repositories. The incentive to self-archiving among researchers is unsatisfactory in terms of fill rate of deposit hence the question of the obligation of deposit by way of an institutional mandate. Information professionals should seize the opportunity of this policy on institutional repositories by taking over the management of deposit and developing value-added services.
En France les Archives Ouvertes se caractérisent par une dualité : une archive ouverte centrale nommée HAL et la mise en place d'archives ouvertes institutionnelles. L'incitation à l'auto-archivage auprès des chercheurs est insatisfaisante en terme de taux de remplissage de dépôt d'où la question de l'obligation de dépôt par la voie d'un mandat institutionnel. Les professionnels de l'information doivent saisir l'opportunité de cette politique en faveur des archives ouvertes institutionnelles en prenant en charge la gestion du dépôt et en développant des offres de services à valeur ajoutée pour la communauté scientifique.
Fichier principal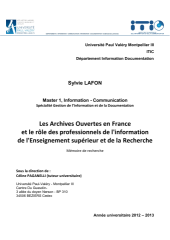 Sylvie_LAFON_Mémoire_M 1_ Archives_Ouvertes_France_role_professionnels_de_linformation_Enseignementsupérieur_Recherche_V2.pdf (473.36 Ko)
Télécharger le fichier