Optimiser la gestion des archives universitaires. Le cas de la DPIL de l'Université de Nantes
French universities are still building their administrative and technical archives management system. The Nantes University wishes to implement this process, especially with records schedule. This study is based both on an analysis of the situation for the whole university and on a diagnosis at the scale of the real estate property department. It enables an analysis of the services records needs and allows suggestions for the DPIL and the university. A few recommendations have been deployed, others could be used by the archivists in the future as an archivistic base.
Dans le paysage des universités françaises, la gestion des archives techniques et administrative est encore en construction. L'Université de Nantes souhaite mettre en place ce processus, grâce à des outils archivistiques, notamment les tableaux de gestion. Cette étude est constituée d'une analyse de l'existant à l'échelle nationale, de l'Université de Nantes et d'un diagnostic à l'échelle du service d'accueil : la Direction du Plan, de l'Immobilier et de la Logistique. Celui-ci a permis d'analyser les besoins de ce service et ainsi de proposer des modèles de gestion. Certains ont pu être construits, d'autres sont des pistes futures que les archivistes de l'UN pourront envisager.
Fichier principal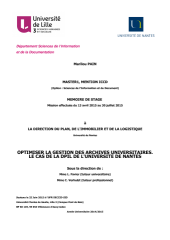 20150622_Lille3_Memoire_Optimiser_la_gestion_des_archives_universitaires.pdf (2.1 Mo)
Télécharger le fichier