Ethique de conservation dans trois bibliothèques nationales - Origine et nécessité de renforcement
This work analyses the origin of conservation ethics' knowledge among the employees of three national libraries (New Zealand, Wellington; France, Strasbourg; Switzerland, Berne). For each of these countries, one notices that the liveliest conservation ethics' notions are related to contexts specific to each country. Assuming that knowledge based on an empirical or collective experience is firmly anchored in each individual, one can deduct that a conservation ethics' education using this type of experience has more chances to come to fruition. In this present case, this would enable the libraries to better respond to the legal engagements they are tied to. These legal mandates ask them to preserve and conserve their collections for the posterity. An online survey allowed collecting information by the employees of those three institutions. Specific context could be localised for those countries. Using those specificities, it is suggested to adapt the conservation ethics' education at professional level, to lead staff to take responsibility towards conservation issues as soon as they start to work for the institution and to maintain this knowledge up to date.
Ce travail analyse l'origine des notions d'éthique de conservation parmi les employé(e)s de trois bibliothèques nationales (Nouvelle-Zélande, Wellington ; France, Strasbourg ; Suisse, Berne). Dans chacun de ces pays on dénote que, dans ce domaine, les notions d'éthique de conservation les plus vivantes sont liées à des contextes spécifiques à chaque pays. Partant du principe que les connaissances basées sur une expérience empirique ou collective sont fortement ancrées dans chaque individu, on peut en déduire qu'un apprentissage de l'éthique de conservation utilisant ce type d'expérience a plus de chance de porter ses fruits. Dans le cas présent cela conduirait à améliorer la réponse des bibliothèques nationales aux engagements légaux auxquels elles sont liées. Ces mandats leur demandent de conserver leurs collections pour la postérité. Un questionnaire en ligne a permis de récolter des informations auprès des employé(e)s de ces trois institutions. Les contextes spécifiques de chaque pays ont ainsi pu être localisés. En utilisant ces spécificités, il est proposé d'adapter l'enseignement de l'éthique de conservation au niveau de la formation professionnelle, de responsabiliser les employé(e)s aux problèmes de conservation dès leur entrée en fonction et d'assurer le maintien à jour des connaissances dans les institutions.
Fichier principal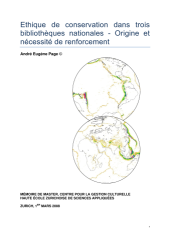 Texte_definitif_2008_02_25_avec_Copyright_no_security.pdf (2.49 Mo)
Télécharger le fichier